8 Cycling Films to Watch This Winter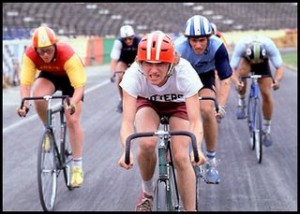 We here in the greater Williamsburg Virginia area are having a much rougher winter than we're used to temperature wise.  Ordinarily lows are in the 20s and it's mid 40s during the day which makes cycling through the winter pretty comfortable.  Not so this year, as I type this next to the wood stove it's 10 degrees outside and many of us have been forced into the gym for spin class or onto the trainer in front of the TV to maintain fitness.  So here are 8 movies available on Netflix or Amazon Instant that can provide distraction while you're stuck on the trainer and motivation for when spring arrives.
1)  Breaking Away.  This is THE classic cycling movie.  Even if you've never seen it, you've likely heard other cyclists reference it.  There's leg shaving, classic steel bikes, frame pump through the wheels retribution, and no helmets!  Check out the trailer
2) Ride the Divide.  We have watched this, no exaggeration, at least 10 times now.  And I still don't mind seeing it again.  It falls into the "life changing" category, as watching this documentary cemented the plans for the Continental Divide Ride that Robert, Clair, and Clair did in 2012.  The scenery is fantastic, the people inspirational, well worth your time to watch!
3) Reveal the Path.  Made by the same folks as Ride the Divide, this follows a group of mountain biking friends to Scotland, the Alps, Morocco, Nepal, and Alaska.
4) Fixation.  A documentary focusing on the various cycling cultures in Southern California that ride fixed gear bikes.  Featuring hipsters, messengers, track racers, and Lycra wearing roadies.
5) Pedal Driven. "PEDAL-DRIVEN is a non-profit documentary made in association with IMBA and in partnership with the United States Forest service that examines the shared philosophies of stewardship and sustainability from both sides and, ultimately, offers examples of the ways in which opposing factions can find common ground in defense of the lands that belong to us all."
6) Red Bull Rampage-The Evolution 2010.  Death defying jumps, loud music, full face helmets, and epic crashes.  Follow riders as they choose their own route to descend 1,500 feet through Utah sandstone.  It'll get you pumped for C loop at Freedom Park when the trails finally open.
7) The Triplets of Bellville.  This unique animated comedy features a kidnapped Tour De France racer, a dog, his grandmother, and evil henchmen-all without a word being spoken.  The soundtrack is delightful despite the lack of dialog.  Even if you saw it a few years ago when it was first released it's well worth re-watching!
8) American Flyers.  Like Breaking Away, it's an 80s movie, so the cheese factor is high.  But the race scenes feature breathtaking scenery, and there's lots of little gems like a cameo by Eddy Merckx and lots of visual references to bike racing that fans from the late 80s will recognize.