Beyond the Bling: Chris King is more awesome than we knew!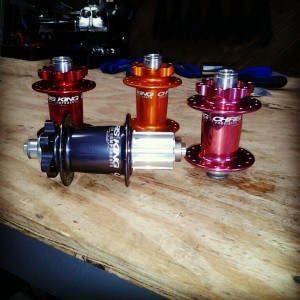 In case you missed it, Bloomberg Business Week recently wrote an article all about our favorite hub and headset manufacturer, Chris King Precision Components.  We've known for years that Chris King hubs are great-they're durable, light, and look great.  But we learned some things from this article that make us feel even better about selling their products.
They make everything in the USA, from metals milled in the USA.  Plus, they export around half of what they make.
They treat their workers well.  For one, they get to live in Portlandia, but more importantly they provide healthcare to workers at 30 hours a week.  Most employees also are able to have 3 day weekends (by working 4 10-hour shifts), and the cafeteria is staffed by a chef from the Four Seasons who cooks a healthy and affordable breakfast and lunch every day.
They take reducing, reusing, and recycling very seriously.  One of their die cutters is from World War II, and much of their machinery has been repurposed.  They also carefully collect the metal fragments and shavings during the manufacturing process and have it recycled.
Hopefully knowing all this makes it a bit easier for people to wait on the goodies that have been on order for a month already.  It's also a real inspiration in how we run our tiny shop, both in our own practices and how we choose potential vendors.