New Bikes
We have access to Ritchey, SPOT Brand Bicycles, Masi, Rocky Mountain, and MOOTS.
Custom Builds
Do you have a new frame and need to swap parts over and get fitted?  Sweet.  Robert's a pro at that.  Want to add some custom wheels?  He can build those too.  Just shoot us an email or give Robert a call to discuss your new ride.
Used Bikes
From time to time will have used bikes on hand and are experimenting with selling bikes and parts on consignment, as well as selling on Ebay.  This is a new to us, so we're still working out the kinks/details.  In the mean-time, here's what we've got:
Trek 69er Frame
17″, White, only $100: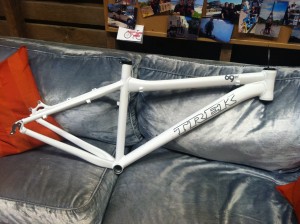 Surly Moonlander, Size Small (16″ frame), only 200 miles on it, $1800

Borealis Yampa, Size Large, Like new, with upgrades, only $2600!!!

| | | | | | | |
| --- | --- | --- | --- | --- | --- | --- |
| Year | Manufacturer | Make | Model | Size | Price | Condition |
| 2016 | Masi | CXGR | Gravel | 56cm | $1,470 | NEW |
| 2016 | Masi | CXGR | Gravel | 53cm | $1,470 | NEW |
| 2016 | Masi | CXGR | Supremo | 53cm | $2,200 | DEMO |
| 2014 | Redline | Conquest | Cyclocross | 44cm (Kids) | $700 | USED |
| ???? | GT | Xinzang | Ti | Large | $500 | USED |
| ???? | Raleigh | MTB | Mixed build | Small (Kids) | $250 | USED |
| 2007 | Trek | Madone | 5.2 | 56cm | $500 | USED-Repaired Carbon |
| 2015 | Raleigh | RXC | | 53cm | $1,300 | DEMO |
| 2008 | Trek | 69er | frame only | Medium | $100 | USED |
| ???? | GT | Dyno | VFR | | $300 | USED |
| 2008 | Lemond | Reno | | 49cm | $400 | USED |
| 2015 | Soma | B-side | frame only | Large (19″) | $400 | NEW |