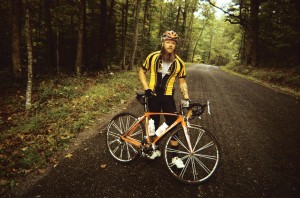 Robert Maye grew up as an army brat in Germany and Kentucky.  When he was 15 his love of backpacking with the boy scouts led him to his first job in an outdoor store that sold bikes.  He showed great mechanical aptitude and after his first mountain bike race that same year he was hooked for life.  Three years in the Army in Louisiana, Haiti, and Texas later, he went back to the bike shop and worked as lead mechanic in shops in Texas and Virginia.  In 2005 Robert rode cross-country from San Diego to Williamsburg in 18 days, and in the summer of 2012 rode the Continental Divide on his mountain bike.  Robert is a graduate of Barnett's Bicycle Institute in Colorado and specializes in custom wheel building and suspension overhauls.
Robert handles all day-to-day operations, does all the repairs, and leads the rides.  So if you're interested in one of those things, contact him.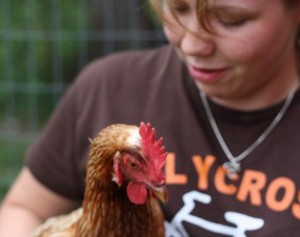 Sharon Oakley grew up in the Seattle area, after getting a road bike for graduation from William and Mary she got hooked.  After some early success road racing she also took up mountain biking and spent four years as assistant manager and manager of a local bike shop.  While working together Robert and Sharon fell in love, bought a house, and became parents to Porter the Plott hound. Robert surprised Sharon at Interbike and they got married at the Little White Chapel in Las Vegas.  She currently works full time at an advertising agency and teaches cheese making and canning classes occasionally with Two Girls and a Hammer.  They also keep a variety of poultry and love all things related to local food.
Sharon helps with the back-end of the business and maintains the website and social media, and will show up on most rides.  Need to contact Sharon?  Email her.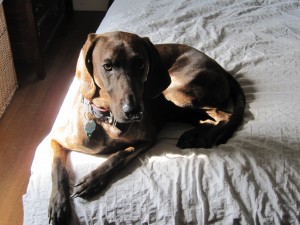 Porter the shop dog is a Plott Hound (the official state dog of North Carolina) who enjoys destroying squeaky toys, eating bacon, and extended cuddles.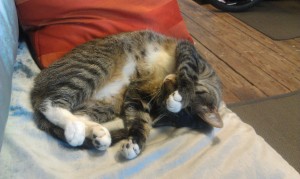 Dolly, the formerly feral feline, found Red Barn in February of 2014.  After an adjustment period to semi-domestic life, she's become an indispensible member of the team as our Chief Pest Control Officer.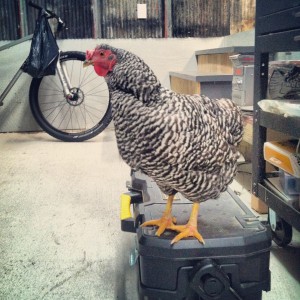 Shop Chicken, RIP, was a favorite at Red Barn Bicycles.  She lived a very long life, but sadly passed in the summer of 2015.