Closed October 24th-27th while Robert Attends Fox Suspension Master Class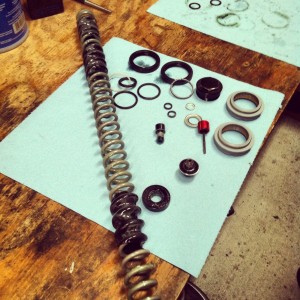 Normally we'd be gearing up for Tidewater Challenge Weekend, but instead we're gearing up to close for 4 days and travel to Asheville for some bicycle mechanic continuing education.  This will be the first Tidewater Challenge Robert's missed in 14 years, so it wasn't an easy choice!
As you probably know Robert does a lot of suspension work on a variety of brands, and even does a limited amount of work on rear shocks.  He's wanted to attend the Fox master class for quite sometime, but it has always been on the west coast so it's been cost and/or timing prohibitive.  Fortunately, Asheville Bicycle Institute is offering the Fox master class this weekend with two instructors from Fox in California.  Besides special tips and tricks for regular fork overhauls, the class will cover damper cartridge service, the new CTD technology, and rear shocks.
Plus, we're hoping to sneak in a mountain bike ride in Dupont while we're in the area!
We're really sorry if this creates any inconvenience for anyone, we're doing our best to get as many repairs as possible done and picked up by close of business tomorrow (the 23rd).