Upcoming Closures-July to August 2013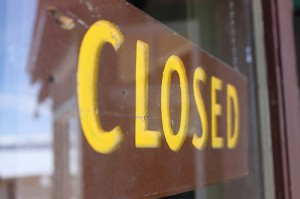 We do our best to be open 6 days a week, and usually end up being open all 7 days.  We have a few events coming up that will require us to close completely, so we're announcing them early and often in hopes that no one is inconvenienced.  If anything else comes up those dates will be added here.
August 20th & 21st-we are working a local event and can schedule either very early or very late pick-ups/drop-offs, but will have limited communication during the day.
August 24th-25th-We're going bike racing!  Robert's doing the 75 miler and Sharon's doing the 30 at the Devil's Backbone Mountain Cross.  You should come ride too!  
September 18th-20th-Interbike!  It's the cycling industry trade show, and since it's our first opportunity to go as Red Barn Bicycles it's important we do so to solidify vendor relationships and hopefully find a road bike line.