5 Tips for Washing Cycling Clothes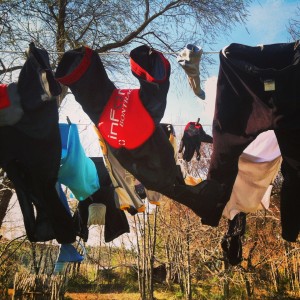 It's so exciting to be able to ride in short sleeves and shorts instead of shorts, tights, base layer, jersey, vest, booties, skull cap, and heavy gloves.  We've both gotten to ride 5 out of the last 7 days, and you know what that means?  Laundry!  10 pairs of shorts, 10 jerseys, 20 socks, and assorted miscellaneous base layers and gloves.  So with laundry on the mind I thought a few tips about how to deal with all that spandex might be useful.
1) NEVER PUT CYCLING CLOTHES IN THE DRYER.  NEVER.
2)  See tip #1.  The dryer breaks down the lycra that makes your shorts keep their shape.  Dry them in the dryer and all your riding friends will end up getting an eye full when they're behind you in the paceline or on the trail.  Not good.
3)  Don't use fabric softener, it can inhibit the breathability of tech fabrics.
4) Wash them as soon as possible after riding-leaving them to fester in the laundry basket just lets the funk settle in.
5) If they start smelling 5 minutes into your ride, it may be time to give your usual detergent a little help.  I dissolve 1/2 cup borax in a quart of warm water add it to the soak cycle on the machine.  Baking soda, hydrogen peroxide, and vinegar are also good at removing odors  (just don't use them all together!).  Just be sure to dissolve it before adding as borax has a tendency to clump and stick to fabrics and gritty shorts are no fun!  There are also a number of specialty products on the market for tech fabrics, but they can be pricey.