We have a truck, soon to be a mobile bike repair shop!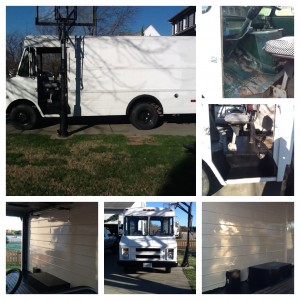 Sometimes it's not convenient to take your bike into the shop-that's where the truck comes in!  It's an older Chevy P-30 step van that used to belong to the Richmond Cycling Corp, so it's staying in the cycling family.  We've given the interior some TLC with a fresh coat of paint, and it got a clean bill of mechanical health from American Pride Automotive in Toano.  As soon as we get some decent weather we'll be adding decals to the sides and building out the interior with a small workbench, fork mounts for transporting bikes, and a repair stand arm welded to the bumper.
Besides offering house calls, the truck will be perfect for events like centuries and races!