Wednesdays on Your Wheel-Youth Mountain Bike Racing Series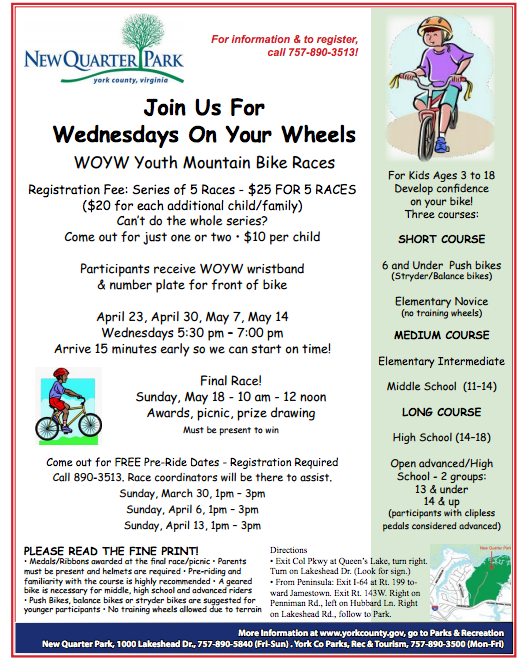 Do you live in the greater Williamsburg Area?  Do you have a child between 3 and 18 who has a bike?  If you answered yes to both those questions you should sign up for Wednesdays on Your Wheel at New Quarter Park this spring.  Cycling can be a lifelong sport and this "race" series is a great way to get kids started.
Who:   Kids Ages 3 to 18
When:  Wednesdays 5:30 – 7:00 pm, April 23, April 30, May 7, May 14
Where:  New Quarter Park, 1000 Lakeshead Dr. Williamsburg, VA
Cost:  Series of 5 Races – $25 FOR 5 RACES ($20 for each additional child/family)
Don't miss the for FREE Pre-Ride Dates – Registration Required.  Call 890-3513. Race coordinators will be there to assist.
Sunday, March 30, 1pm – 3pm
Sunday, April 6, 1pm – 3pm
Sunday, April 13, 1pm – 3pm
We'll be out there cheering the kids on-it's a fun event!