We're officially opening today!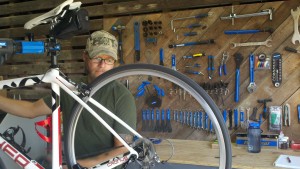 As you can tell if you're reading this, I (Sharon) finally published the website last night.  This is the first site I've done on my own, and while it's a long way from done I'm pretty darn proud of it.  Many thanks to Shaun Stripple for the photo that is the background image on the site!  If you find typos or have questions or suggestions please send me an email.
But the big news today is that Red Barn Bicycles is open for business!  Now you can schedule a pick-up, join the Red Barn Riders Club, or stop by and see what we've done with the barn (please call ahead).  We also want to say a big THANK YOU! to all the friends that have surrounded us with so much love and support recently.  We couldn't do this without you and you are all appreciated more than you know!
If you're interested in helping us out, here are a couple things that you can do:
1) Spread the word!  Tell your friends, neighbors, and co-workers, share Red Barn Bicycles on facebook, tweet about it,  it all helps.
2) Join the Red Barn Riders Club!  It'll pay for itself by the third time you need your bike worked on in the next 12 months, and helps us raise the last bit of capital we need to purchase the last tool Robert needs.
Thanks for all the support!  Can't wait to see everyone at the Tidewater Challenge.